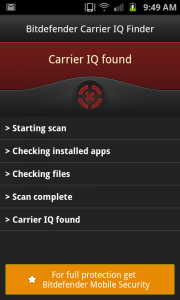 Most of mobile phone users want to detect whether Carrier IQ exists on their smartphones or not with the help you applications. For Android, most of the apps in Market cannot stop Carrier IQ from running, but at least some of them can detect and make sure whether the mobile phone is tracked or not.
Carrier IQ, as a process that can stealthily monitor users' smartphone activity, had aroused the fierce controversy in the past few weeks. Some see it as a serious threat to users' security and privacy, while others have likened the reaction to mass hysteria generated by the media.
After I searched with Google, I heard that BetaNews had tested out two of the available options to detect the Carrier IQ. One is
BitDeferder's Carrier IQ Finder
, and the other one is
Lookout Lab's Carrier IQ Detector
. The tests were performed on a Samsung Galaxy S II Skyrocket running Android 2.3.6 on AT&T's network, and both found Carrier IQ present but didn't indicate whether or not it was active.
They also spotted a few apps that claim to freeze the process that runs Carrier IQ's hidden application. These include Trey Holland's
Bloat/CIQ Freezer Free
and RDMSoft's
Carrier IQ Process Killer
. Without more extensive tests, they can't independently verify these actually work as advertised, but customer reviews are generally positive.